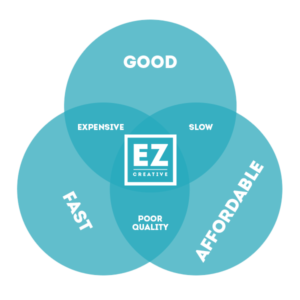 NEVER COMPROMISE.
Whether it's graphic design, marketing solutions, or the perfect website, it needs to be affordable, fast and done well. That's what Erica Zoller Creative is about. No compromises.
Normally, you can only pick two out of the three.
You can have your cake and eat it too! It can be done. We've created smooth-running systems that will move your requests along quickly, looking professional, all while remaining affordable. Our single focus is to educate, empower, and encourage you.
Learn more about Erica Zoller below.
ABOUT ERICA ZOLLER
Hailing from the Garden State, New Jersey (her grandfather was on the field team for the New York Yankees), Erica has found permanent roots in the mountains of Western North Carolina with her darling family of five. Priding herself in not having a northern accent (thanks to studying non-regional diction), she will enthusiastically share with you how a pork roll, egg and cheese sandwich activates all four sections of her brain – and delights the stomach as well. Can I get a Wawa?!
Erica can be summed up as a fast-footed, fearless
freelancer with fantastic eyes for detail.
Erica has collectively pushed nearly two decades in marketing, graphic and web design, and creative communication – and has sacrificed dozens of good ideas for a single great one!
When she's not building and nurturing client relationships, she's an avid gardener, fisher woman, room rearrange-er, wife, and mama.